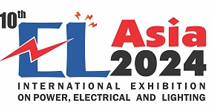 About 9th Elasia - 2021
"Higher FDI than what existed till now will directly boost the overall scenario in the country, besides generating lakhs of new jobs, This will add to the nation's GDP."
9th ELASIA- 2021 Exhibition will be the podium to compare the best in the world to the best in India. The show will constitute an ideal platform not just for maximum exposure of cutting-edge products & services to key Electrical, Electronics, Lightings & Power sector players and top decision-makers but also for the kind of high-powered face-to- face business meetings and contacts that will take an organisation forward in leaps and strides. Who is who in the Electrical, Lighting & Power world is going to be at this Exhibition. Starting from Manufactures, OEM's, Suppliers & Distributors, to Agents and Manufacturers. They will be consolidating brand image, exploring& expanding niche markets, establishing contacts and initiating deals.
Be a part of this excitement, participate in an unique opportunity seizing event - 9th ELASIA - 2021.
About ELCA
The Electrical Consultant's Association (ELCA) was founded and registered in 1990 at Bangalore by a group of dedicated consulting professionals actively involved in the field of electrical consultancy.
ELCA was formed with the following main objectives :
To create awareness amongst the electricity consumers towards a better and safer quality of electrical installation

To provide a platform for interaction between the manufacturers and the end users by way of arranging technical seminars, workshops, exhibitions etc

To take up such technical aspects with the statutory authorities as are relevant for a proper and safe installation, considering the present trends in the design of the systems and development of electrical products.

ELCA is a body having several experienced and recognised consulting professionals as its members. Many of its members have been associated with prestigious electrical projects in the public and private sectors
Why Exhibit
Meet a maximum number of experts, institutional and professionals at one place

Present your innovative products and services to a wider audience at a low cost

New partnerships and new contracts

Access to key decision makers

An opportunity to expand your clientele and increase your market share

Enhance brand awareness and visibility of your company

Interact Face to Face with your target audience

Boost your brand image, capitalize your reputation and strengthen your presence in the market
Exhibitors Profile
Alternators

Architectural Lightings

Cables

Capacitors

Capital goods and machinery required for manufacture of above products

Conductors.

Displays / Display manufacturer

Distributions ED/EDA and measurement and testing Technology

Electromechanical components and fixing technology

Equipment

Fixtures and accessories

Flood Lighting

Generations

Home Lighting

Hospitality Lighting

Industrial and Decorative Lighting

Industrial Electronics

Instrument transformers

Instrumentation

Insulators

LEDs Electrical & Electronic

Light Sources

Lighting Controls

Luminaires

Measuring

Modules and hybrids

Monitoring and Recording Equipment.

Motors & Motor winding Equipment

Operating resources and Production subsystems Services.

Passive components

Process control

Production Technology and logistics for Circuit Boards and Switches

Protection and Utilisation of Electrical Power such as Generators

Retail Lighting

Semiconductors

Sensors and micro systems

Stage and Studio Lighting and other lighting related products.

Street Lighting

Subassemblies

Subassemblies and Subsystems

Switches

Testing

Transformers, Switch gears and Control gear equipment (like Circuit breakers, Isolators and Relays)

Transmission

Transmission line towers

Winding Wires
Reach Us
Address:
ExhibitionVenue
BIEC - Bangalore International Exhibition Centre, Bangalore, India.
Address:
Triune Exhibitors Pvt. Ltd.
#25, 3rd Floor, 8th Main Road, Vasanthnagar, Bangalore - 560 052. INDIA.
Call Us:
Email:
info@elasiaexpo.com